Desiccant bag for transport and storage
The desiccant bags protect against unwanted humidity inside the packaging and thus prevent moisture-related damage to the packaged goods.
In the desiccant method, a desiccant is applied within a closed
atmosphere produced and maintained a microclimate. A waterproof barrier envelope enclosing the packaged goods and desiccant ensures separation from the external climate. The air inside the packaging is dried to such an extent (up to a residual relative humidity of 5%) that no corrosion can occur during transport or storage.
Using special programs, we calculate the optimum mixture of these materials tailored to your production, storage and shipping conditions. Your product will be effectively protected from all moisture-related damage with this method.
Advantages
Prevents corrosion on metals
Prevents the formation of mold in food
Provides protection from moisture
Fewer customer complaints
Can be used as a marketing tool
Versions
Type A (low dust) – Type B (dustproof)
1/6 units – 32 units
Dustproof Tyvek cover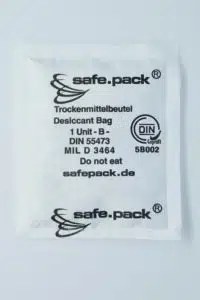 CONTACT
Safe Pack Solutions GmbH & Co KG
Im Sundernkamp 19 – 32130 Enger
Phone +49 (0) 5224 – 93901 – 0
team@safepack.de
Hamburg branch
Blohmstr. 18 – 21079 Hamburg
Phone +49 (0) 40 – 7679628 – 0
© 2021 Safe Pack Solutions GmbH & Co KG. All rights reserved